Most people have experienced sweaty hands and slippery fingers when playing foosball, it is annoying and when you lose your grip in the middle of a shot.
There are a few ways that you can help you grip from slipping, gloves and handle wraps are the two most common ones used. Here I will look at the wraps, but if you want to read more on foosball gloves click the link.
I know how important a good grip is to for you to shoot any type of complex shots like Snake Shot or Pull shot. Both amateurs and professionals are looking for ways to improve their game and that is why I am writing this article. I will take a look at the different details of Foosball Handle Wraps, things like how to put on the wraps and what to expect when using them and finding the best products available.
Why is your grip important in Foosball?
How to put on a foosball handle wrap?
Foosball Handle Wraps – What you should know before buying?
Best Foosball Handle Wraps
Other ways to get a better grip in Foosball
Why is your grip important in Foosball?
Do you know how to grip the foosball handle for enhancing your speed, performance, and accuracy? The beginners in the game often play the game by gripping the handle of the foosball too tight. This is a huge mistake, it is essential to keep your grip right so that you can easily move your hands and you don't put extra strain on your hands and arms.
Make sure you keep your grip loose on the handle as this helps you enable maximum speed and movement. It will also limit the handle resistance and helps your rod to move fluidly and freely. There are two great grips you should know when they are making use of your foosball game. 
Traditional Shot Grip:
This type of grip is suitable for multiple shots like push shots, tic-tac shots, pull shots, and spray shots. You should find that you have a loose feel between the handle and your index and thumb finger. This is the right position when you are focusing on the Traditional Shot Grips. 
Open Handed Foosball Grip:
The open-handed grips are mainly used while shooting snake shot, also known as the rollover shot. Before making this, you should make sure whether the player is standing in the right position.
Once the foosball is in the right positions, the players can switch from the traditional grip to the open-handed grip. Make sure your beginning of the wrist is touching your foosball handle and your hand in an open position. 
How to Put on a Foosball Handle Wrap?
Foosball wraps are used to enhance the player's ability to grip the handle of the foosball and also make it easier for the players to shoot any type of snake shot or pull shots. One should know to make use of these handle wraps effectively to win the game tactically. 
How to wrap your foosball handle is more important. Here are the ways to use the Foosball Handle Wraps effectively. 
Unravel your wrap.
Start by placing then end in the middle of the handle.
Make use of your left hand to rotate the handle and with the help of your right hand hold it firmly. 
Start rolling on your handle, And roll on the wrap from the start position and up towards the table with a slight overlap.
When you get to the end of the handle then slightly start going back to the other end of the handle. 
If you feel that your handle is rolling slightly with gaps or loose, you need to end the process and start over. 
Unravel the wrap again and know the spot of the problem. Once found, apply more tension on the wraps at a larger angle and roll it on. 
Repeat the same process for all handles. 
Still confused, check out this video on how to wrap your Foosball Handle Wrap Video effectively. 
Foosball Handle Wraps – What you should know before buying?
While considering Foosball Wraps, they are available in different tackiness and thickness. No tapes are 100% perfect, so it is essential that you choose the one which provides you with the most comfort. 
As they are affordable, you can try out some different brands and check which will suit you the best and this can be easily found when you play multiple games. 
While testing the brands, you should play until your hands get sweaty. In this case, you will know how the wraps handle your pressure effectively, and it makes it easy for selecting the perfect foosball handle wraps for you. 
Best Foosball Handle Wraps:
Choosing the best Foosball Handle Wrap brand is vital for the product to last with its quality and better time. There are many products in the market, but choosing a reliable and comfortable one is essential. 
Foosball Handles Wraps from Warrior:
Warrior Table Soccer is a reliable manufacturer to get the product from. The foosball handle wraps which you can make use to improve the play quality. It also enables for best control and keeps the pressure stable.
The control over the rod is built excellent, the grip is developed with good quality, and therefore the product can withstand for long years. 
The Foosball handle wraps from Warrier is suitable for professional as well as the beginners. You can choose your favorite colors you need. They weigh just 8 ounces and are designed with the dimension of 6 X 5 X 2 inches.
Depending on how many you need these wraps are sold in different size packages. Which also makes it easy to try out.
Master Wraps Foosball Handle Wraps:
They are also one of the best manufacturers while considering sports products. They develop each of their products based on the player's expectations.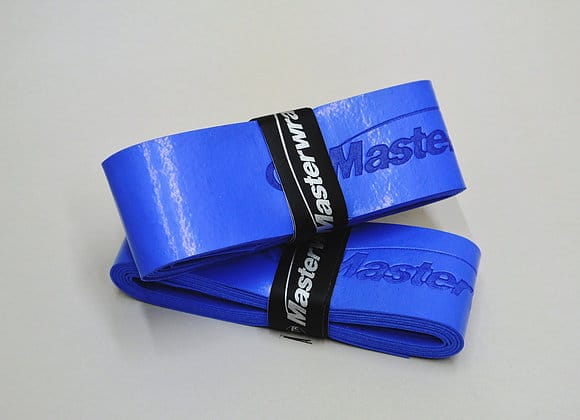 This company has multiple different types of wraps not only for foosball but for a lot of sports.
The manufacturer has provided the option for the buyers to choose their tackiness and thickness level which is one advantage in this product. The grip tape is, and undoubtedly they will last for several years.
You can check their website for more details on the products here, but below is a short list of some of their products. 
Standard Thick
Thin Tacky
Thin Sticky
Dimpled Erasers
Grip Bands
I don't have much personal experience with their wraps yet, but I have mostly heard positive things about the products. The advantages are that they have a good variety of wraps so it should be possible to find one that suits your needs.
Other ways to get a better grip:
Apart from the Foosball Wraps, you can make use of the Foosball Gloves or Rubber Grip Bands. These also offer the players will firm grip when holding the handle, and it mainly comes down to preferences of what to use. Some players don't use any wraps or gloves and play foosball so naturally and other some people make use of the wraps and gloves to get a better grip. 
Conclusion: 
A foosball player should know how to control the Foosball handle perfectly, this is the place where Foosball handle wraps are important. It helps to increase the accuracy level and play you to a win the foosball match. 
We as a player each have our own preferences in regards to how much grip control we want, but it is vital to make use of the grips to control them effectively. The wraps has to work as a support to help your game or els you should'nt use em.
Wrapping the handles with tubes or wraps can help you the best grip on the handle. I would personally recommend you to choose the foosball wraps, but my best recommendation would be to try it out and see how it feels for you. 
Read above about each type of wraps and decide for yourself, i feel fine using the warrior brand.